Samsung has developed a new app called Backup Memory. This is a fantastic idea, and I hope there are going to be more of them. Right now it is only available for Samsung-centric devices, but I'm sure it's going to be developed for all digital platforms.
So what makes this Samsung app, this Backup Memory app, so special is that is does not serve as a memory backup for your phone. It's your memory backup. Backup Memory has been developed to assist Alzheimer's patients in remembering their families and preserving their memories. One of the great complications people struggle with, whether they are afflicted with Alzheimer's or know someone diagnosed with it, is they can't remember things they should remember. Family. Dear Friends. Important people that come up to visit, see how you are managing. What happens with Backup Memory is that it uses Bluetooth to identify other Android smartphones and detects when family and friends are near. Family and friends will have in their copy of Backup Memory collections of media—photos, movies, and audio that serve as memory triggers for the Alzheimer's patient; and whenever they come close to the Alzheimer's patient, Backup Memory will detect their proximity, and access all of the memorabilia loaded on the family member's or friend's app. The person with Alzheimer's can access the shared media, refresh their memory, and say "Oh yeah, I remember who you are!" This is an absolutely fantastic idea. It's very simple to use and physicians are actually saying it could slow down the effects of Alzheimer's.
Backup Memory is still in its early testing phases, but preliminary data shows that the stimulation does slow down the effects of Alzheimer's. This is such a great use of technology, and it's impossible not to look at Backup Memory and say "Wow, that's so logical. I would have never thought of it!" It's a fantastic idea and application of smartphone technology, and I think it is going to go well.
---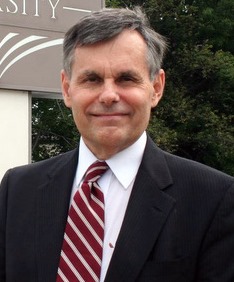 A research physicist who has become an entrepreneur and educational leader, and an expert on competency-based education, critical thinking in the classroom, curriculum development, and education management, Dr. Richard Shurtz is the president and chief executive officer of Stratford University. He has published over 30 technical publications, holds 15 patents, and is host of the weekly radio show, Tech Talk. A noted expert on competency-based education, Dr. Shurtz has conducted numerous workshops and seminars for educators in Jamaica, Egypt, India, and China, and has established academic partnerships in China, India, Sri Lanka, Kurdistan, Malaysia, and Canada.