Those who are legally blind we are used to seeing navigating an unfamiliar space with a cane of some description, but here's an idea I really, really do like. It's a way of using Bluetooth—the wireless technology standard used in mobile devices, laptops, computers, and other appliances—and strategically-placed beacons to help blind people navigate in and through difficult, unknown, or unpredictable areas. iPads and iPhones are all equipped to respond to iBeacon when you walk into an Apple Store. Much to the chagrin of privacy advocates, your device's Bluetooth and iBeacon work together to track where you are in the store so you can receive personalized ads on your device whether you want them or not. So this is a simple, basic approach to tracking a person using Bluetooth and iBeacon technology. Somebody got the idea that instead of just delivering ads to you, this tracking technology could actually connect to a headset and that headset could deliver directional information to the visually impaired. Talk about a masterstroke of an idea.
So navigating the London's underground is difficult for visually impaired. (It's actually difficult for people who aren't impaired visually when you are there for the first time!) An application called Wayfindr, developed by ustwo, the same company behind the acclaimed video game Monument Valley. These innovative developers nurtured a connection with the Royal London Society for Blind People's Youth Forum and worked together on perfecting this Bluetooth-iBeacon technology. Wayfindr is currently testing in a month long trial at the Underground's Pimlico station. Sixteen beacons are in place, tracking users' smartphones and activating audio-descriptive notes. Here is a video of how the device works:
People using Wayfindr wear conductive earphones that send vibrations through cheek bones. With these special receivers, ear canals are not blocked, allowing the user to still hear what's going on around them. Wayfindr users can hear the voice directions incoming without impeding on all the other sounds coming in. For example, if another person were to approach or if a bus were coming down the street, you would hear the other pedestrian or the bus. This current test is in a small trial now, but London Transport has said this could lead to further tests and shape how iBeacons are integrated into each station's physical architecture. Now only is this a major development in independence for the visually impaired, but this is an amazing application of technology once geared to simply distribute digital coupons. Don't you think?
---
---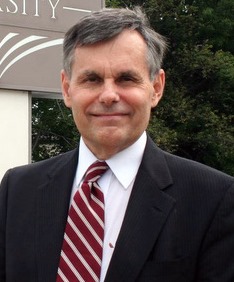 A research physicist who has become an entrepreneur and educational leader, and an expert on competency-based education, critical thinking in the classroom, curriculum development, and education management, Dr. Richard Shurtz is the president and chief executive officer of Stratford University. He has published over 30 technical publications, holds 15 patents, and is host of the weekly radio show, Tech Talk. A noted expert on competency-based education, Dr. Shurtz has conducted numerous workshops and seminars for educators in Jamaica, Egypt, India, and China, and has established academic partnerships in China, India, Sri Lanka, Kurdistan, Malaysia, and Canada.