Do you have a smartphone? (Chances are, if you are reading this on your phone, the answer would be "Yes.") If so, go on and take a look at what you have on there. Do you have any of the following apps:
PayPal
Cartwheel
Key Ring
Uber
Waze
OpenTable
Starbucks
MapMyWalk
Fandango
Ingress
Take a look at those apps. You see in there apps for shopping, apps for traveling, apps for fitness, and apps for entertainment. They are varied in what they do, how much battery life they consume, and who makes them; but all these apps share something in common. Do you know what it is? These apps all need one thing to unlock their potential and make your smartphone that much smarter. That one thing will allow these apps to engage others, make and manage payments, and even tell you what's happening around the corner from you. It's your personally identifiable information (PII) and it can be any data as simple as your current location to incredibly sensitive data such as a bank account. You can enable all these apps—along with apps that connect you on social media, allow you to book hotel, train, and airline reservations, and even help manage your bank accounts—to do amazing things all from the palm of your hand. It just cost you a bit of your privacy.
Is that convenience worth it?
The United States Computer Emergency Readiness Team (US-Cert) does not pull any punches in telling the truth about how vulnerable we are. "If you are connected, you are likely infected." Welcome to the real world. Cyber Warfare, Cyber Terrorism, Malicious Hacking and Cyber Espionage continue to make headlines, but the general public—the consumers that continue to connect their lives to cloud servers and social networking—continue to log in and do business. While some corporations, even after previous data breaches, promise security, executives find themselves at a loss (on many levels) when hackers strike again. This new element in cybersecurity called Advanced Persistent Threat (APT) have businesses, corporations and governments scratching their heads.
The grim reality is the number of security incidents detected is rising exponentially. There were 2,989 incidents reported to US-Cert in 2012. That number rose to 4027 in 2014 and that the number of organizations reporting losses of more than $10 million per incident is up 75% from last year according to report published by PricewaterhouseCoopers in 2014. Our enterprise, government, military, or other infrastructural assets continue to be threatened, and we as a growing digital society—whether we know it or not—are desperately in need of strong cybersecurity defenses that will thwart those cyber threats.
Adware, Spyware, Viruses, Keylogging, Cybertheft—these are not terms isolated to those at the IT Help Desk. The more we connect, the more we are at risk of online fraud and identity theft. We need to take action and plan to thwart these threats. With our ever increasing reliance on convenience, we find ourselves and our privacy at risk, demanding a need for significant investments in communication infrastructures. Do we really need a solid foundation for these infrastructures? Yes. Do we need more Cybersecurity Experts? Absolutely.
It's a convenience you should expect when online.
---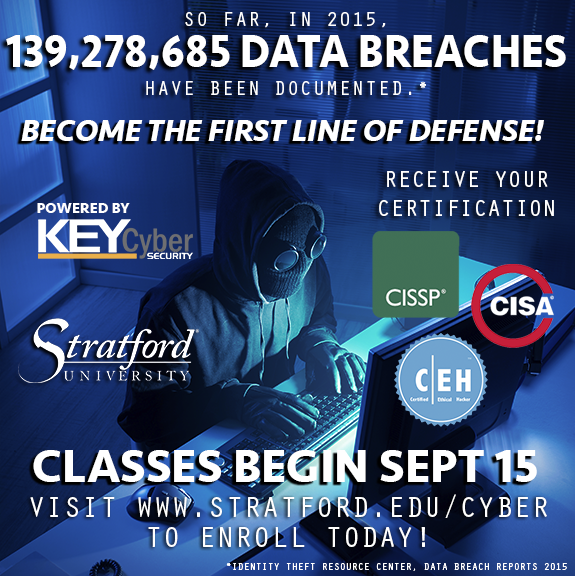 Stratford University, in association with Key Cybersecurity, is offering CISSP, CISA and CEH training and certification courses at many of its Northern Virginia campuses. We will be providing students the hands-on experience with state of the art security solutions like HeurekaCyber's Cyber Armor and others. Join us at http://www.stratford.edu/cyber in becoming the first line of defense in cybersecuity.