So you want to be a cybersecurity professional but you don't know where to start. Or maybe, you are already employed in the tech field and want to add to your skill set. Both of thee paths have something in common: Requirements of a certification, a degree, and—assuredly—hands-on experience.
That's a pretty tall order, regardless if you are a student considering college or a professional looking to stay current in the field.
Cybersecurity courses, ranging from the basic introduction all the way up to certification, are offered by a variety of educational institutions and organizations. There are also a variety of methods on how to teach you cybersecurity strategies and skills. One approach is to cram a lot of information at a rapid pace so you can memorize the "best answers" for the exams. You might pass. You might not. What will most likely happen is that, by the time you surface from the intensive immersion into all things cybersecurity, you will still not be ready for the demanding challenges that face enterprise organizations every day. This field—this ongoing, ever-changing, always evolving field—doesn't quite work like that.
The keys to success in standing as the "first line of online defense" are getting a good education, committing to a specialization, and gaining valued and desired experience by working with the tools needed to protect data. While you might think "What a novel concept!" it may surprise you how many training facilities do not deliver in this. If you are looking into training—training that makes you marketable as a cybersecurity professional—you should demand this from your educational institution.
So, let me tell you about what I'm doing at Stratford University.
Last week, I began a collaboration with Stratford on cybersecurity certification and training that met this criteria:
Professors possessing years of experience in the field of online security
Professors that are owners of their own companies, bringing real-life concerns and solutions into the classroom
Labs introducing solutions like HeurekaCyber CyberArmor and others in Stratford University's Center of Excellence (CoE)
This is my mission: To educate tomorrow's cybersecurity experts.
Once the courses, the certifications, and the classroom testing all draw to a close, where do you go from there? Leave with your paperwork and hope for the best? Not with this program. Stratford University will make our cybersecurity lab available to you after your class has ended. Professors will remain available for consultations to help you pass final exams. Throughout the class lectures and certifications, you will be networking with professors, peers, and professionals from the cybersecurity field. This is where preparedness intersects with opportunity, and opportunity leads to a career, be it brand new or a new course in your current one.
Think of us as your personal concierge to help you traverse the cybersecurity landscape. We'll be with you every step of the way, but that first step depends on you.
Are you ready?
---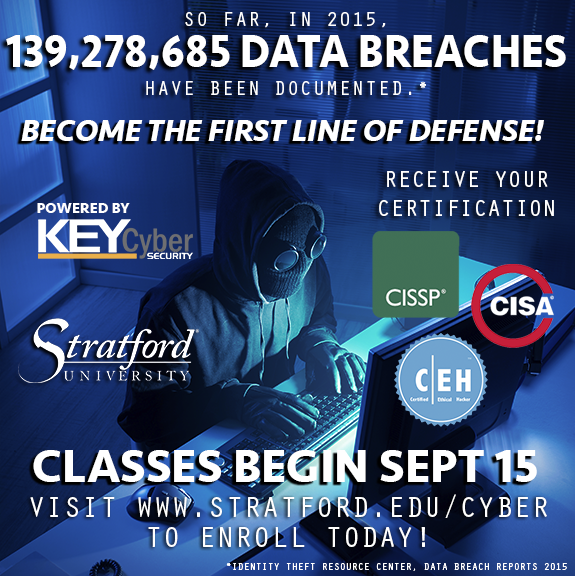 Stratford University, in association with Key Cybersecurity, is offering CISSP, CISA and CEH training and certification courses at many of its Northern Virginia campuses. We will be providing students the hands-on experience with state of the art security solutions like HeurekaCyber's Cyber Armor and others. Join us at http://www.stratford.edu/cyber in becoming the first line of defense in cybersecuity.