It's been a few years since I've had to worry about raising kids, but with the Internet we have the best and the worst to offer them. What I mean by that is not necessarily in the quality of content you find online (although that is a factor), but more specifically I'm talking about choices and options. There is so much out there, and so many good websites out there that can educate and inform you of what happening and how the world works that all these choices start to look more like distractions.
Allow me to point you over to The Curiosity Machine, a website that stands out for me out from the other educational sites out there. It's a personal thing, really, as the Curiosity Machine connects actual scientists and engineers with children in order to inspire innovation and invention. This website follows the same approach as Mr. Wizard and Bill Nye: The Curiosity Machine makes science fun. Visitors are provided a variety of open-ended engineering design projects, appropriate for K through 12 students, and these are hands-on projects inspired by industry. I was looking at some of them, and it took me back to my days in the classroom. As a student. You know, it's like solving real engineering problems. There are around forty challenges on the site right now but it's growing.
Now with each challenge students are presented with some kind of complex problem to solve. Could be an aerodynamic problem, or a mechanical problem, but they are challenged to work on this puzzle, following a kind of a step-by-step process in order to solve these technical challenges. Most design challenges take about 90 minutes and that's for planning, work, testing, and then you submit it. 90 minutes. What happens next, you receive feedback from a mentor, professional engineers volunteering to be mentors. This mentor will respond to your design in 3 to 5 days after submission, and then once you get your feedback you start a redesign process similar to what you did before: plan, build, test, design, submit. The redesign process goes on for as long as you make improvements to the design, and with each re-submission the mentor will offer you feedback on every change that you make. Each time you go through the process, you improve and you learn throughout the process.
Just to address the "Why?" behind the mentors, these men and women are professional scientists and engineers from all over the world, dedicated to inspiring young minds and imaginations, the next generation of inventors. Pretty good reason, if you ask me.
Anyone can create a Curiosity Machine account and you don't have to be a student, you can be a curious adult, if you just want to enjoy a challenge. You can access the tutorials and engineering designs for free. For schools or groups interested in supporting this as part of a program, Curiosity Machine offers paid membership but students all have free membership.
Be curious. Go on and have a look at the Curiosity Machine. Who knows? Your visit might inspire the next big idea.
---
---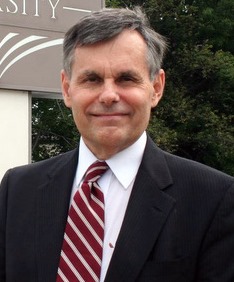 A research physicist who has become an entrepreneur and educational leader, and an expert on competency-based education, critical thinking in the classroom, curriculum development, and education management, Dr. Richard Shurtz is the president and chief executive officer of Stratfdord University. He has published over 30 technical publications, holds 15 patents, and is host of the weekly radio show, Tech Talk. A noted expert on competency-based education, Dr. Shurtz has conducted numerous workshops and seminars for educators in Jamaica, Egypt, India, and China, and has established academic partnerships in China, India, Sri Lanka, Kurdistan, Malaysia, and Canada.