image from Wikipedia.org and used with permission under CreativeCommons
Detroit, Michigan was once a city of incredible promise, opportunity, and innovation. It was also a city that could only be described as immense. At its height of prosperity, Detroit was the fourth largest city in the United States and at one time was home to over half the population of the entire state. This meant the city was covering a lot of ground, and on its decline its massive sprawl was too much for the local or state government to handle. You can actually get an in-depth, somewhat heartbreaking look at the city and its people if you see the documentary Detropia. While there is a lot of tragedy there, you also see the hope and the determination in the people of the city. There's a lot of love in that city. The film really brings that to light.
Now here we are in the 21st century and two modern trends—mobile technology and crowdsourcing—has arrived to help Detroit heal, and I see so much potential in this initiative.
The Improve Detroit app, launched in April of this year, has been designed to help the local government be more responsive. Be it potholes, defective traffic signals, flickering streetlamps, or illegal dumping sites, the Improve Detroit app turns to the citizens of the city and surrounding metro area to chip in and help the city find and fix the problems disrupting everyday life. So far over ten thousand problems have been resolved through this app. You can imagine the challenge Detroit city workers faced on a daily basis in finding, let alone fixing, the myriad of problems throughout the city, but all that changed with the introduction of the Improve Detroit app. This Android and iPhone ready app will alert city personnel to whatever observant citizens come across. Potholes, abandoned cars, water main breaks, broken hydrants, if a citizen finds anything in need of attention from the local government, they report it on the Improve Detroit app. You can take a picture of it, mark the spot with a GPS location tag, and notify the city of a problem.
This may appear to be the government passing on responsibility from their own offices to the people, but the Improve Detroit app, already downloaded by over 6500 people, has led to a substantial amount of work accomplished by the city. The local Detroit government has
cleaned up more than 3,000 illegal dumping sites
repaired 2,092 potholes
shut off running water to 991 abandoned structures
repaired 506 water main breaks
removed 565 abandoned vehicles
fixed 277 traffic signals
This isn't the city's problems being pushed back to the people. This is a city united, coming together to solve problems.
The Improve Detroit app was the brain child of Mayor Mike Duggan, one guy who says, "OK we're going to change this." He wanted to make the city more accountable, and make people care about their environment and their services. Now the people of Detriot have the app and can track when the city is actually working on something. Before this, they didn't even know who to call! You could call someone at the city, remain on hold until the right person gets to you, and even if you were to make contact with someone, you don't even know if your complaint goes anywhere. The nice thing is that with this new innovation—something Detroit was once known for—the mayor and local government officials can track how problems and situations are being resolved. Improve Detroit has accountability built into it. Specific departments can now be asked by higher-ups, "How are we doing on that matter?" and then post reports and updates. It's been very effective, and not only are similar apps appearing across the country, Mayor Duggan is launching apps inspired by Improve Detroit's performance. One such app is called Detroit Police Connect, providing up-to-date information on the Police Department and providing ways to contact the police anonymously. There is also a DDOT bus app allowing riders in real time to find the location and movement of buses.
This is more than just technology making Detroit a better place. This is technology helping to rebuild a city by forging a community that cares about the details, about the security, and about the infrastructure that helps a city feel like a home. Ideas just do not come any bigger than ones rooted in hope and faith.
---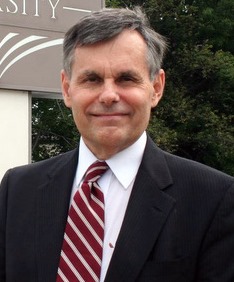 A research physicist who has become an entrepreneur and educational leader, and an expert on competency-based education, critical thinking in the classroom, curriculum development, and education management, Dr. Richard Shurtz is the president and chief executive officer of Stratfdord University. He has published over 30 technical publications, holds 15 patents, and is host of the weekly radio show, Tech Talk. A noted expert on competency-based education, Dr. Shurtz has conducted numerous workshops and seminars for educators in Jamaica, Egypt, India, and China, and has established academic partnerships in China, India, Sri Lanka, Kurdistan, Malaysia, and Canada.