Have I mentioned on this blog how much I love Bitcoin?
Well, there was here…
And here…
Oh yeah, and over here, as well.
So as you can see, for all its faults and foibles, I do love the technology of Bitcoin.
If you are new to our Curious blog, then let me introduce you to what Wall Street Journal's Paul Vigna calls "digital money." That is a somewhat broad definition of Bitcoin. How it differs from physical money or even credit is that Bitcoin is maintained by software, not a government mint, treasury, or bank of any kind. The transaction is on a completely digital, decentralized system of currency and commerce, and uses logs of transactions called a Blockchain that is modified and stored in a distributed fashion in multiple servers everywhere. The Blockchain serves as a form of security over your digital currency so if you try to sell that same bitcoin again the Blockchain informs you that the bitcoin has already been sold, avoiding duplicate bitcoin transactions.
Bitcoin and Blockchain came about this idea from the same methods used to track software. Go online and try to launch applications that are not registered under your name, and you get that "No, this is not the right user. Please enter in your verification…" message. This is what Bitcoin and Blockchain are doing in order to make sure every digital transaction is authentic, unique, and genuine; and it is this technology that will change your life.
The Internet connects billions of people around the world, and it's great for communicating as it was built for moving and storing information. However, the Internet doesn't communicate value or money, just information. In that respect, nothing has really changed in how we do business, even online. The data—your credit card number, for example—is copied and applied to a transaction, and depending on the rights you granted the recipients they might be able to print a copy of that credit card information. So while it is not the original, it is a copy that can be used repeatedly. There is no perceived "value" and these numbers can be used over and over again. Not the most secure of ways to do business.
For something better we turn to the Blockchain.
Blockchain offers the first native, digital medium for peer-to-peer value exchanges. Protocol establishes rules in the form of globally distributed computations and heavy duty encryption, and that in turn ensures the integrity of the data trading among billions of devices without going through a third trusted party. Trust is hard-coded into the platform. That's why they call it a trust product protocol. Blockchain acts as a digital ledger, allowing for an actual transfer of currency without third party institutions like credit cards, and this is going to transform the entire way eCommerce is handled online. All sorts of Internet-ready devices will be able to carry out transactions, and do so using a very trusted way bring money and value online. This is going to change everything from banking to art distribution, practically any exchange where currency is needed.
This will not happen overnight. Bitcoin still has a few growing pains to get by before mainstream acceptance, but do make sure you start tracking with the Blockchain technology. It is a real game changer that has the potential to affect everything going forward.
---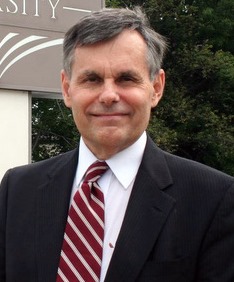 A research physicist who has become an entrepreneur and educational leader, and an expert on competency-based education, critical thinking in the classroom, curriculum development, and education management, Dr. Richard Shurtz is the president and chief executive officer of Stratfdord University. He has published over 30 technical publications, holds 15 patents, and is host of the weekly radio show, Tech Talk. A noted expert on competency-based education, Dr. Shurtz has conducted numerous workshops and seminars for educators in Jamaica, Egypt, India, and China, and has established academic partnerships in China, India, Sri Lanka, Kurdistan, Malaysia, and Canada.