In 1993, The X-Files was introduced to the world, bringing to the mainstream the idea that a sinister conspiracy was being perpetuated by the government about the existence of UFOs, extraterrestrial intelligence, human experimentation, and evidence of things that go bump in the night. There was a revival of the series this year, but something felt surreal about it. The idea of the government trying to keep such incredible secrets from the public seems less believable as the Open Data Initiative is becoming more of a reality on a global scale.
Open Data is when governments, municipalities, and countries open up their data banks so people can look in it gives you transparency in government, so it is a very good thing; and the Global Open Data Initiative (GODI) is a movement being embraced by over fifteen hundred different organizations in eight-seven countries across all sectors of the economy. Open Data serves as a way to control fraud, waste, and abuse. Chanceare you have been using Open Data without being aware of it. If you look up a weather forecast, use an app to plan your commute, or check an online rating site to find a doctor, that's Open Data applied in the real world. Open data—free public data—is produced by anybody for anyone to use without restriction. Without consciously aware of it, Open Data has become an integral part of our lives, and now we can actually mine it and do things with it. All the open data the US government releases is on Data.gov while the World Bank's data has a site of their own. Open Data provides citizens, businesses, non-profits with critical information to make more informed decisions.
There was a report that came out from the Center for Open Data Enterprise and the Open Data for Development Network they basically analyzed all the availability and usage of data, and they produced a report called the Open Data Impact Map, a public database of organizations that use open data to better understand the growing trends in different countries and sectors. Over the past years dozens of organizations across six continents have contributed examples to the Impact Map Database. The first report included 134 cases from 87 countries. The Impact Map Data found the most common types of data used revealed government operations, budgets, spending, elections, and procurement data. Other data of interest included geospatial, GPS status, satellite imagery, demographic and social, and census data. The report also found that organizations use all this data for four main purposes:
organizational optimization
new products and services
advocacy
research
The complete report is really worth looking at if you are interested in the use and application of Open Data. One of the most recent examples was here in the US where blogger Ben Wellington proved that the New York Police department was ticketing thousands of cars that were actually parked legally. It goes that officers kept ticketing his own car parked on a pavement ramp on the street where he lives. Wellington was just fed up with it as drivers had been allowed to park in some of these places since 2009. So he examined the data published through New York City's Open Data portal that included information on the most common parking places in the city where tickets are issued on pedestrian ramps. Then, utilizing Google street view, he cross-referenced ramps not connected to crosswalks, in which case the ticket would have been justified. In one Brooklyn spot where, according to the law, it was legal to park, $48,000 worth of tickets were issued erroneously for over two years,
That's $48,000 on one parking place.
When faced with the evidence, the New York Police Department went on record to say, "Mr Wellington's analysis identified errors that the department made in issuing ticket parking summonses. It appears to be a misunderstanding by officers on patrol of recent cases where small changes were made to the parking rules. We appreciate Mr. Wellington bringing this anomaly to our attention."
This is an incredible example of the use of Open Data. It is an ambitious initiative that ushers in a new age of accountability and trust. The days of super-conspiracies and shadow operations in our world could be on a borrowed time as the desire for transparency and data sharing is becoming more of a norm.
However, when I go back and watch The X-Files on Netflix, I can't help to chuckle. It really would take a lot in our currently social media sharing society to hide the existence of a fat-sucking vampire.
---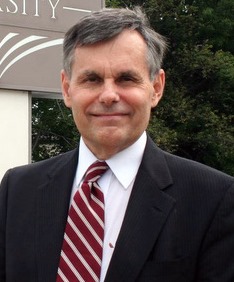 A research physicist who has become an entrepreneur and educational leader, and an expert on competency-based education, critical thinking in the classroom, curriculum development, and education management, Dr. Richard Shurtz is the president and chief executive officer of Stratfdord University. He has published over 30 technical publications, holds 15 patents, and is host of the weekly radio show, Tech Talk. A noted expert on competency-based education, Dr. Shurtz has conducted numerous workshops and seminars for educators in Jamaica, Egypt, India, and China, and has established academic partnerships in China, India, Sri Lanka, Kurdistan, Malaysia, and Canada.