Quick history lesson: The first Transatlantic Communications Cable, this one designed specifically for telegraph communications, was laid in 1858 by businessman Cyrus West Field. This innovation marked the first solid communication connection between North America and Europe. That connection lasted only three weeks, but Field and his associates proved that it could be done. While you may believe that it is satellites that carry the bulk of our communications traffic, the opposite is true—underwater cables provide faster, reliable traffic. It's a proven method (not without its challenges) in getting word across the miles of water separating countries and continents. Submarine communication cables have come a long way since that initial experiment back in 1858, and today these deep water utilities are comprised of fiber optics, carrying digital data including telephone, video, and Internet. It would be easy to think "Yeah, okay, this is probably a terrific big idea because stretching cable across the Atlantic Ocean is pretty amazing." and you know something—it is. The most recent, upgraded Transatlantic cable successfully handles tens of terabits (a single terabit equal to 125 gigabites) per second across a distance of over 6000 km (3700 miles). You would think that is a big idea…
But this Friday, I'm thinking bigger.
While the Transatlantic cable truly is a modern wonder, the Transpacific cable is a triumph. The first cables to cross the expanse of over 15,000 kilometers (9600 miles) were connected during the turn of the 20th century, linking the United States mainland to Hawaii in 1902, and then continuing on to connect Guam to the Philippines in 1903. Also connected into this massive network in 1902, were Canada, Australia, New Zealand and Fiji. Jump ahead to the 1990s when the first cable to completely cross the Pacific between North America to Japan was established. Now, in 2016, it is Google's turn to connect countries. At the beginning of the summer, Google brought their undersea cable online. The project is a collaboration between six telecom groups, all of them determined to deliver on the high demand of faster Internet services and cloud computing. This new connection transfers a stunning sixty terabits per second from Oregon to Japan, and Google's SVP of Technical Infrastructure Urs Hölzle has stated this latest innovation will handle "more [capacity] than any active subsea cable" currently used.
Before you scoff at this retro-notion of the undersea cable, keep in mind that the undersea cable is nothing new to Google. They have been putting down undersea cables for Internet service for quite some time; but as mentioned earlier in my column, there are challenges. If you think it is the immense pressure, that is accounted for. No, the big problem is in the current tenants of the Pacific (and Atlantic) Ocean. Google's prior cable was cut four times due to shark attacks. Maintenance crews have documented discovering teeth imbedded in their cable, so repair crews and engineers has been forced to protect undersea connections by wrapping new and replaced connections in a Kevlar-like coating. Scientists theorize the sharks are attracted to the cables by the magnetic fields they generate.
If there's Internet data zipping back and forth through them, I wouldn't be surprised if they aren't just trying to catch a clip from Shark Week. They might see someone they know, after all.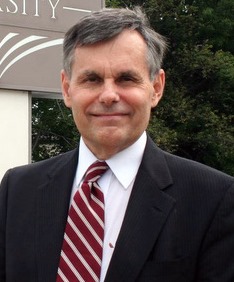 A research physicist who has become an entrepreneur and educational leader, and an expert on competency-based education, critical thinking in the classroom, curriculum development, and education management, Dr. Richard Shurtz is the president and chief executive officer of Stratfdord University. He has published over 30 technical publications, holds 15 patents, and is host of the weekly radio show, Tech Talk. A noted expert on competency-based education, Dr. Shurtz has conducted numerous workshops and seminars for educators in Jamaica, Egypt, India, and China, and has established academic partnerships in China, India, Sri Lanka, Kurdistan, Malaysia, and Canada.