Last month, Comcast really was not having the best of times. Their heart was certainly in the right place, but even though we are wrapping up the year, folks are still remembering the previous month.
The first hiccup came up on November 6 when Comcast's internet service suffered massive outages across the United States. The outage covered large metropolitan areas like New York, San Francisco, and Los Angeles, and this massive blackout was on account of an outage Level 3, an Internet provider to other networks.
Level 3 reports that the outages were caused by a configuration error. This could mean a line of code had a typo in it or used language that the server did not recognize. (As this is centered around a programming error, I wonder if someone is going to get fired over this. Seriously, this hiccup was massive!) The configuration apparently led to Internet routing problems; and as the Internet routing didn't function properly, it affected major service providers like Comcast, Spectrum, Verizon, Cox, and RCN. All these services went dark to varying degrees on account of this error, and Comcast was hit the hardest on social media. The hashtag #ComcastCares went viral, but not in a way that the ISP would encourage. It also does not help Comcast as they still have not explained how this simple trip-up from Level 3 could have cascaded into such a massive outage.
Now, who or what is Level 3? Level 3 is a Tier 1 network, providing core transport, IP, voice, video, and content delivery for medium-to-large Internet carriers. They don't actually deal directly with the public, but they provide services to the ISPs. Essentially, they put the "Service" in Internet Service Provider. Level 3 supplies a backbone of servers to carriers in North America, Latin America, Europe, and selected cities in Asia. Level 3 is also the largest competitive local exchange carrier (CLEC) and the 3rd largest provider of fiber-optic Internet access in the United States. How Level 3 works with Comcast and other ISPs in that Verizon, for instance, has a local network here but they would like to connect to a larger network in the world. Verizon would tie into Level 3 and tie into a fiber optic network that spans the country. This service from Level 3 allows regional networks to be part of the larger network. It is up to Level 3, though, to knit all this together. Level 3 also monitors traffic across their network, and carriers pay Level 3 for that traffic. This is how Level Three makes money.
You also never hear about Level 3 unless there is a problem. And on November 6, there was a big problem.
Bookending November with bad news, Comcast posted on November 22 this tweet assuring the public that they will not throttle the Internet even though the lifting of Net Neutrality would legally allow them to do so. Needless to say, reaction to this tweet was harsh. It is admirable for Comcast to pledge their commitment to their customers, but so soon on the heels of a major outage, perhaps silence would have proven a better tactic in light of this heated debate.
Here's hoping December proves a better month for the company.
---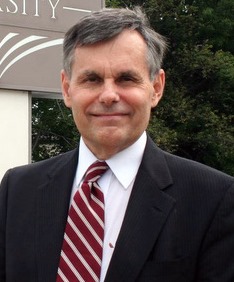 A research physicist who has become an entrepreneur and educational leader, and an expert on competency-based education, critical thinking in the classroom, curriculum development, and education management, Dr. Richard Shurtz is the president and chief executive officer of Stratford University. He has published over 30 technical publications, holds 15 patents, and is the host of the weekly radio show, Tech Talk. A noted expert on competency-based education, Dr. Shurtz has conducted numerous workshops and seminars for educators in Jamaica, Egypt, India, and China, and has established academic partnerships in China, India, Sri Lanka, Kurdistan, Malaysia, and Canada.